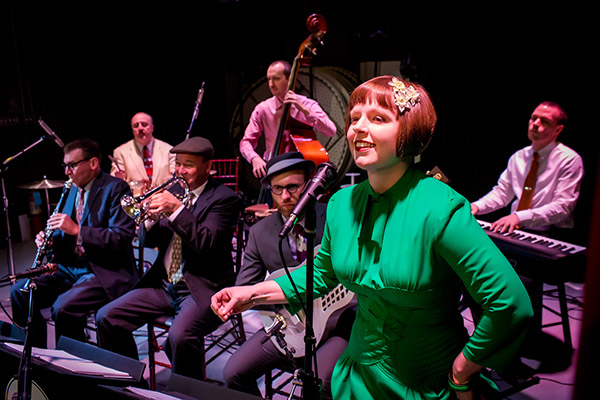 Michael Gamble and the Rhythm Serenaders
The Rhythm Serenaders are an adamantly faithful presentation of tightly-arranged, riff-dominated swinging small-group created for swing dancers. Careful transcriptions and subtle adaptations of Goodman/Christian Sextet dominate the repertoire, with thoughtful forays into the combo work of Ellington, Basie, as well as some of the later 40's material put down by Eldridge, especially his time with Artie Shaw. With Laura Windley featured on vocals, the band also explores the wonderful songbook left behind by Billie Holiday during her years with Columbia, where she pulled together some of the hardest swinging players to bring to life some of the greatest pop tunes ever written. Bandleader Michael Gamble's 15+ years in the international swing scene inform every aspect of the band's repertoire and taste.
The amazing lineup for Pirate Swing consists of:
Michael Gamble (Bass)
Gordon Au (Trumpet)
Paul Cosentino (Reeds)
Rob Garcia (Drums)
Chip Newton (Guitar)
James Posedel (Piano)
Laura Windley (Vocals)
Joey Science
Joey Science started swing dancing in 2005, and still can't wrap their head around where the time has gone. Since 2005, Joey has fallen madly in love with both lindy hop and blues dancing, and recently launched headfirst into learning Saint Louis Shag.
Celia Mooradian
Travel agent by day, Chicago-based musician and master of jazz puns by night, Celia takes you where YOU want to go on the most exciting dance journey of your life. Making stops in Kansas City, New York, Chicago, New Orleans and St. Louis, your DJ'ed bliss begins with a one-way ticket to Happy Town. And yet, somehow she always manages to send you flying home by the end of the night.
Joe DeMers
A bit of funk, touch of vintage, and a whole lot of love makes for dancing that is mmmmm mmmmm good! From Denver to LA to Seoul, Joe has been spreading the Blues love; always throwing in a few surprises to spice up the night. Along with playing the good stuff, Joe enjoys Thai food, anime and long walks on the beach.
Ross Blythe
Whether the music is fast and hot or slow and smooth, Ross can be found on the dance floor. From the sounds of New Orleans to powerful big bands, juke joint bars to languid ballrooms, the music he plays is picked for the crowd. An established Lindy Hop, Balboa, and Blues DJ residing in Chicago, Ross plays the music that keeps the dancers dancing and the party rockin'. Ross has been dancing, teaching, and now DJing around the midwest and now international events in Canada (including a brief stint in Scotland) since 2009. He can be found DJing for 50Fifty, Bluetopia, Chicago Balboa Monthly Social, Fizz at DCC, and other Lindy Hop, Blues, and Balboa events around the region.